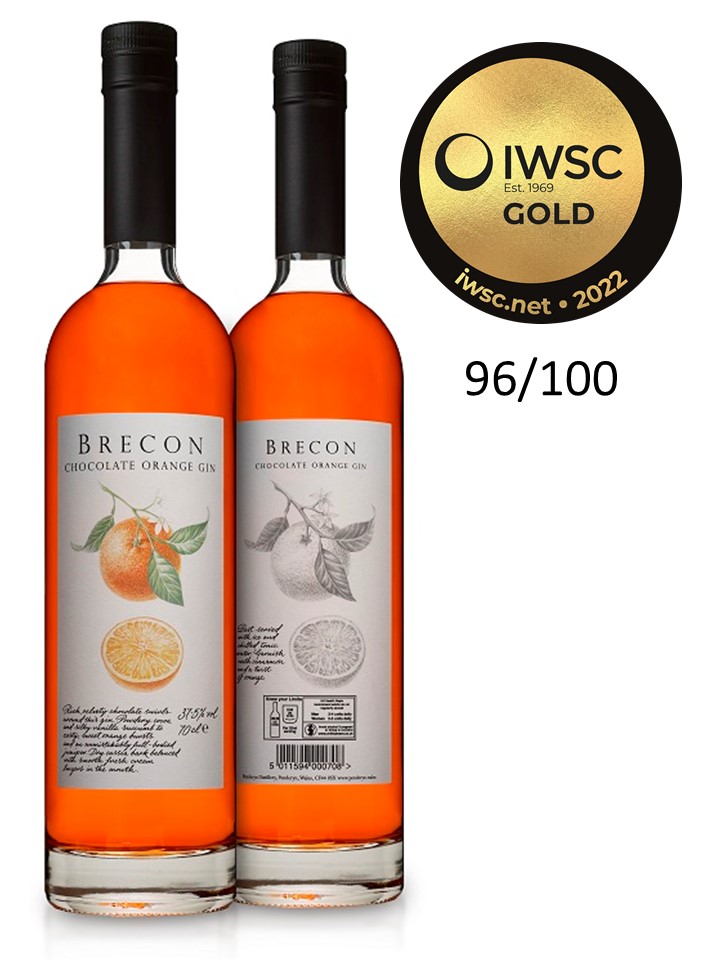 Brecon Chocolate Orange Gin wins a Gold at the IWSC 2022 awards, with a score of 96/100
Penderyn Distillery are delighted to win this Gold award from IWSC with a remarkably high score of 96/100. This Brecon Chocolate Orange Gin, bottled at 37.5% abv, is part of our Flavoured Gins range, which also includes Rhubarb & Cranberry and Rose Petal.
Our Chocolate Orange Gin also won Golds at the Spirits Business Gin Masters in 2021 and 2020, and a Gold in the Spirits Business Design Masters in 2019.
Tasting Notes
Rich velvety chocolate swirls around this gin. Powdery cocoa and silky vanilla succumb to zesty, sweet orange bursts and an unmistakeably full-bodied juniper, dry cassia bark balanced with smooth fresh cream lingers in the mouth. Best served with ice and chilled tonic water. Garnish with cinnamon and a twist of orange.
Giancarlo Bianchi, Sales & Technical Director, said – 
'This is a great result for Penderyn as the IWSC awards are very prestigious. We are really pleased that our gins have won several recent major awards, including a Spirits Business Gin Masters for Brecon Gin in 2021.'
Laura Davies, General Manager of Distilleries, who created the gins said –
'The award-winning Brecon Gin series has been expanded using Brecon Special Reserve as a base for three  exciting flavoured expressions. These flavoured and coloured gins have been created with balance and creativity which will capture the interest of our regular Brecon Gin customers, whilst enticing new customers to the brand too.'
You can buy this product online here.