PENDERYN FARADAY – TRAVEL RETAIL EXCLUSIVE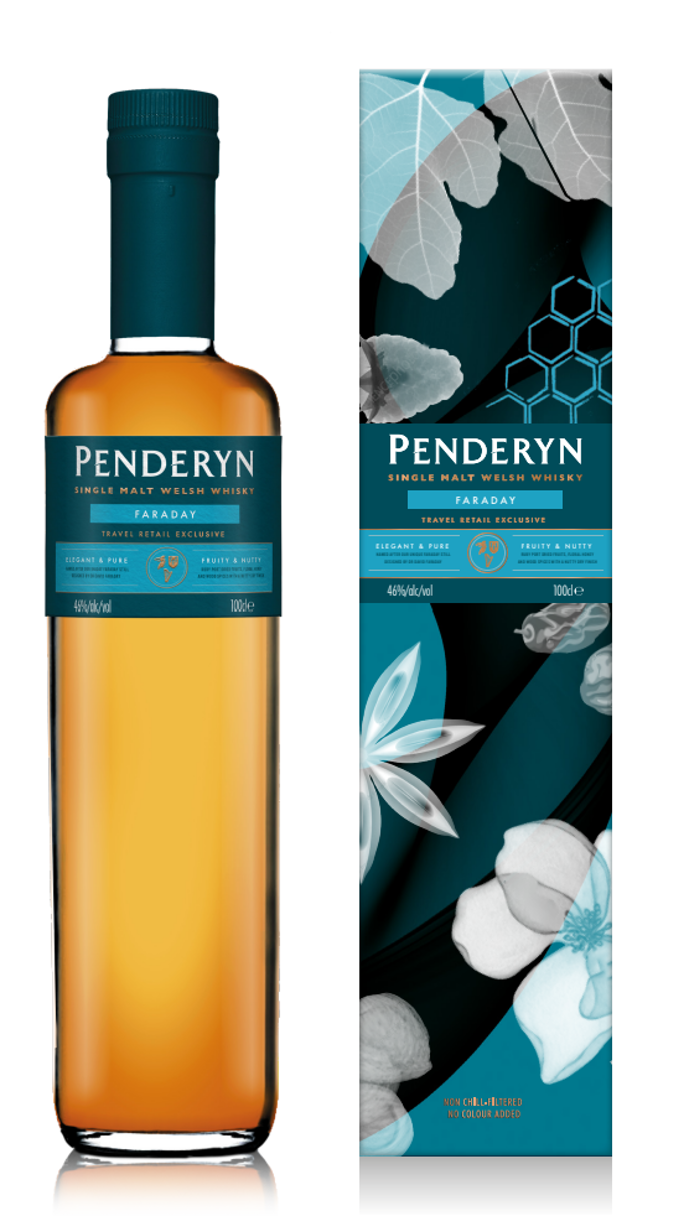 Penderyn Faraday was launched on October 1st 2018, and won the Spirits Business Travel Retail Masters Gold Award in 2021. And now… we bring to you our 1 litre Penderyn Faraday Travel Retail exclusive!
Our Penderyn Faraday whisky began life in ex-bourbon casks, it's finished in ex-ruby port casks and bottled at 46% abv.
Tasting Notes:
Nose: Gently light Ruby Port with perfume of fruits, raisins and vanilla note.
Palate: Delicate and creamy with dried fruits, very floral honey and wood spices.
Finish: Medium and gentle, sweet but at the same time has a nutty dryness.
This Travel Retail exclusive is named after our unique Faraday Still, which is a single copper-pot which produces a flavoursome spirit of extraordinary strength and purity and was designed by Dr David Faraday, descendent of the ground-breaking Victorian scientist, Michael Faraday.
Whilst most Scottish and Irish distilleries use a conventional two or three-pot 'lantern' still system, the technology developed at Penderyn allows an extremely clean 'flavourful' spirit to be produced from a single still.
We charge our Faraday stills with our own malted barley wash. As the steam heats the liquid it starts to bubble and the vapour rises into a copper column above the still. The column has a number of perforated plates and the vapour condenses on the first plate before returning to the still.
As the process continues, the vapour reaches the second plate… and so on, before evaporating and falling back to the still; each step leaving the spirit smoother, softer and more refined than before. Eventually the spirit is drawn from the seventh plate on the second column and piped into our glass spirit safe where it lands, literally drop by drop, over the course of the day.
This magical process not only imbues our raw spirit with great complexity, depth and finesse, but also removes many of the undesirable chemical compounds – something that a conventional pot still system cannot achieve. Arriving at the spirit safe at an industry high 92% abv, our spirit is virtually free from these chemical compounds and this becomes crucial during cask maturation.
Whisky is matured in charred oak barrels primarily to remove undesirable chemical compounds as the charcoal created as oak barrels are burned or charred prior to filling acts as a filter. As these chemical compounds are generally absent from our spirit in the first place, we use casks primarily to build complexity, flavour and depth.
For more information on how to place an order or delivery timescales, please email our Business Development Director, Simon Roffe
simonroffe@penderyn.wales