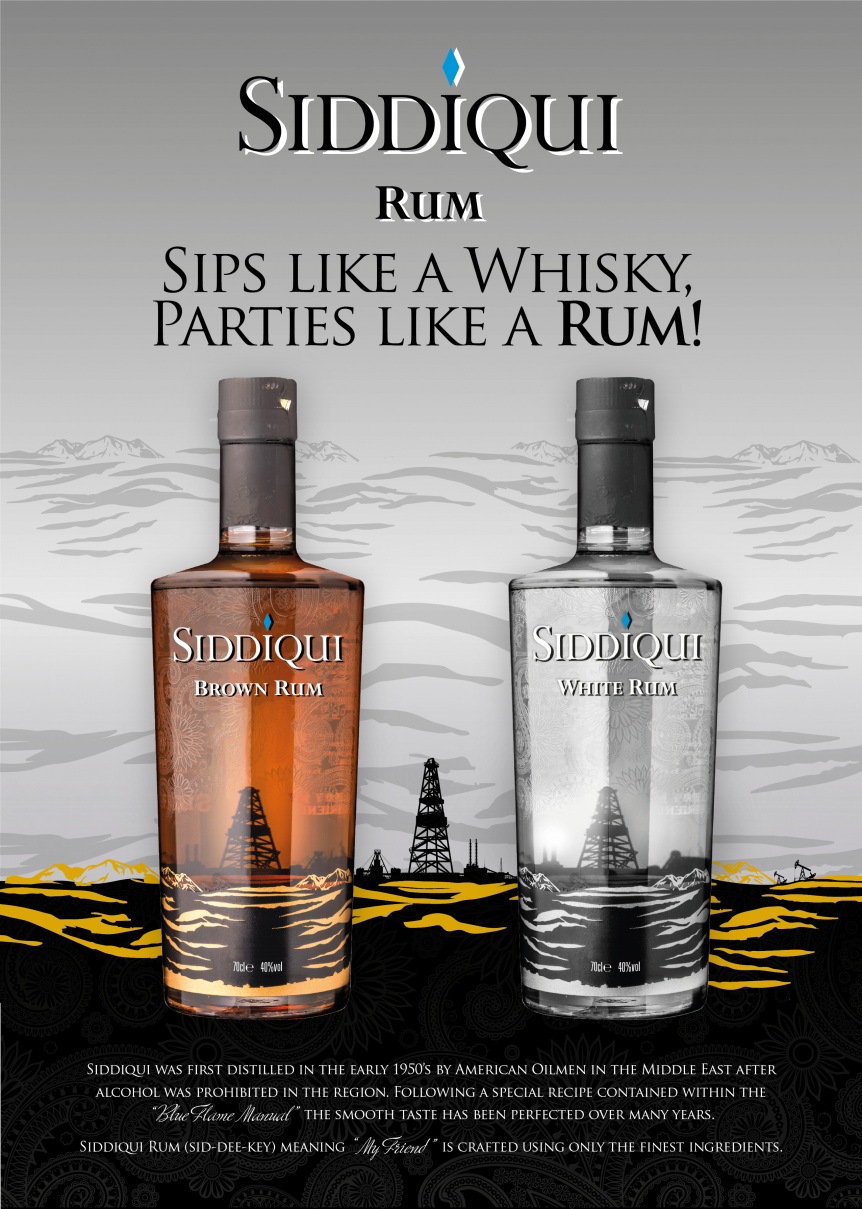 Siddiqui Rums from Penderyn Distillery
Penderyn Distillery are delighted to announce that they have partnered with the California-based, Siddiqui Rums Corporation. This exciting new partnership means that Penderyn will produce Siddiqui Rums for international markets.
Is it possible for one word or one brand of spirit to encapsulate an entire way of life?
It's a big ask, but for tens of thousands of people who worked in the deserts of the Middle East over the last 68 years, the word 'Siddiqui' will conjure up images of hot and heavy work under clear Arabian skies, and chilled evenings around the fire with the tranquil Persian Gulf ahead and star-strewn skies above.
Siddiqui – pronounced Sid-dee-key – was a way of life for the ex-pat set in the desert of the Middle East as they sought for, and extracted, oil. Part guilty secret, and part a welcome tonic, Siddiqui gave solace to thousands of workers living in a harsh climate with a challenging environment.
'I sometimes wonder how influential Siddiqui has been over the last half century,' says brand owner Nigel Brown, who is about to oversee the global launch of the spirit drinks.
It's possible that the Middle East would have been a different place without it, as Siddiqui was so much part of life over the decades, as there's nothing better than having a relaxing alcoholic drink at the end of a long hard day in the desert sun.
Siddiqui – the name is Arabic for 'my friend' – is unique. It is a spirit that was originally created to reflect a period of industrial and cultural history, and exists as a response to the widespread ban of alcohol imports and sales in the Middle East which occurred in 1952.
Rick Chimblo, Chairman of Siddiqui revealed:
'The recipe originated in The Blue Flame manual that everyone followed, and the recipes have been perfected ever since.'
Penderyn will initially release two expressions of the affectionately nicknamed 'Sid'.
Siddiqui Brown Rum is a spirit that, 'Sips like a whisky and parties like a rum', and tastes like no other spirit. It has a distinctive whisky-like smokey and oaky note, but it is rounded with a short finish as you'd expect from a quality rum.
Siddiqui White Rum is sweet, smooth, and very drinkable, an ideal platform for cocktails.
Penderyn will distribute these rums worldwide, but for retail customers in the UK, Siddiqui Brown Rum can be bought online here.
Both expressions come in a stylish, clear bottle through which the silhouette of an oilfield is visible. It is well placed to find an audience due to its unique back story, competitive pricing, and premium packaging.
Penderyn's Chief Executive, Stephen Davies, commented:
'It was hard to resist such a compelling story which many people will relate to, along with a recipe that has been perfected over a long period of time.'
For sales enquiries, contact: Robert Weller: Robert@penderyn.wales
For press enquiries, contact Jon Tregenna jon@penderyn.wales