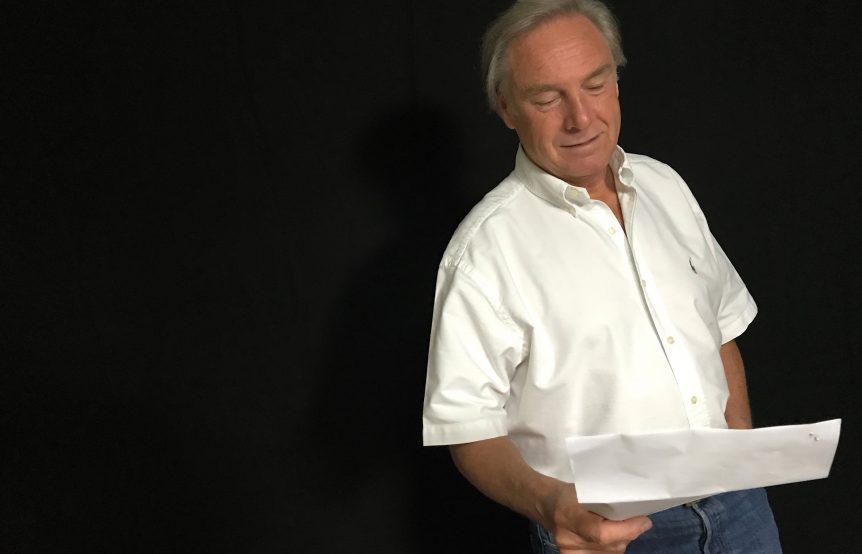 Glenn Tutssel (1951-2019)
Glenn Tutssel, Penderyn's designer, director, and more importantly, friend, passed away recently at the age of 68. Our heartfelt condolences go out to his family – Jane, Lauren and Leon – as well as his many friends and work colleagues at this very sad time.
Born in Barry, South Wales in 1951, Glenn was a wonderful designer and craftsman who rose from humble beginnings to the very top of his game. His mentor was his school art teacher, Doug Sutton, who he also took judo classes with. Glenn took an Art foundation course in Bristol, then went to London to do a BA in Graphic Communication. Over his 50-year career, he worked with a wide variety of brands, from BP to Boots. Glenn's particular interest was drinks and he helped create identities for Bacardi, Guinness and Peroni. He was also behind some of the Royal Mail's best-known stamp collections, including the recent Elton John edition. Glenn was a big fan of pop music and only a few weeks ago spoke of how he took a call from Elton himself, which he told with a schoolboy's glee.
Sian Whitelock, Penderyn's Brand Director:
'I worked closely with Glenn on all things Penderyn since joining the company in 2005. What a learning curve! To say he had a golden touch when it came to design would be an understatement. A genius and a gentleman, we had so much fun along the way with many meetings supported by Jane's wonderful Welsh hospitality in Stroud, followed by a nice glass of wine at the pub!'
Glenn's enthusiasm was infectious. He was great company, a passionate Welshman, and a genuinely lovely man who bubbled with creativity, passion and positivity. His beautifully crafted designs for our bottles, cartons and other elements helped Penderyn stand out, and Glenn was instrumental in the success we enjoy today. His design for a bespoke bottle for our Gold Range in 2017 was a great step forward for Penderyn, and his bottle has proved highly successful, gaining plaudits around the world. (You can see just a few of Glenn's designs in the bottom picture.)
Stephen Davies, Penderyn's CEO:
'I first met Glenn when I joined Penderyn in 2005. We were working on the first Penderyn Grand Slam bottle and met in Cardiff to discuss the design. Glenn was at the top of his game, and it's fair to say that as a new distillery his services were a little out of our budget. I arranged for a tour of the Millennium Stadium, and as walked out onto the pitch, I could see that Glenn was visibly moved as he was a huge Welsh rugby fan. He turned to me and said, 'I want to work for Penderyn. I want to work for Wales.' Glenn did so much work for the big players in the industry, but for him Penderyn was a labour of love. Everywhere we look we see his work, and that, among many other things, will ensure his memory lives on.'
When Glenn started working for Penderyn he was minded that Wales had a relatively limited Whisky heritage compared to our Celtic cousins in Scotland. His instinct was to create a modern, contemporary brand. His designs were always beautiful, but the Distillery Operations team who had the job of bringing his designs to life sometimes had a difficult task. A recent example was the Bryn Terfel Icons of Wales edition, where Glenn designed a bottle that appeared to be covered in red velvet.
Neil Quigley, Operations Director:
'I was filled with a mixture of admiration and trepidation. Firstly, it was beautiful. Secondly, how the hell are we going to make that?! It was the desire to create Glenn's remarkable design that justified the hours of hard work we put in to trying to realise his dream.'
Stephen Davies:
'In the early days we realised that lots of people were buying our whiskies, but weren't opening them because they didn't want to spoil Glenn's designs! He pushed and challenged us and the Welshman in him took great pleasure from working with Penderyn. Glenn was incredibly diligent in making sure that the quality of his design work matched the quality of the whiskies we produce.'
A week or so before he passed, whilst very ill, Glenn travelled to the Vale Resort near Cardiff with his son, Leon, and presented a specially designed bottle called 'Gatastic' to Wales' coach Warren Gatland, just before the team headed to the World Cup in Japan. The bottle was Glenn's idea; a personal appreciation of Warren's great achievements. Glenn was thrilled at meeting Warren, and delighted to hear from the WRU that Warren loved the bottle. When we sat down with Glenn afterwards, he talked animatedly about rugby, about Penderyn's new distilleries, about his plans for a new design for the next Penderyn Icon Of Wales edition and, as mentioned previously, the Elton John phone-call. He was as charming as ever, and offered no sign of the pain he must have been in. We can clearly add bravery to his many qualities.
Nigel Short, Penderyn's Major Shareholder:
'Glenn was a personal friend and will be sorely missed. His enthusiasm for life was infectious as was his love of design and all things Welsh. Jane, Lauren and Leon – you are not alone in your grief. Nigel and Louise Short.'
We'll leave the last word to Glenn, who spoke about Penderyn a few years back in an interview with Design Week:
'As a Welshman, it's an honour to do work for a home-grown business that has become an international success.'
Glenn, we'll all miss you.
xx
Pictured below, clockwise from top left – Glenn and Jane Tutssel at a Wales game; Glenn with Warren Gatland; Glenn with his daughter Lauren; Glenn with Stephen Davies and Sian Whitelock of Penderyn discussing bottle designs; and a still from Glenn's film about his bespoke Penderyn bottle.
The bottom picture is just a small selection of Glenn's wonderful designs, including the Gold Range Bottle which he was especially proud of.
More info on Glenn's long and varied career can be found here.