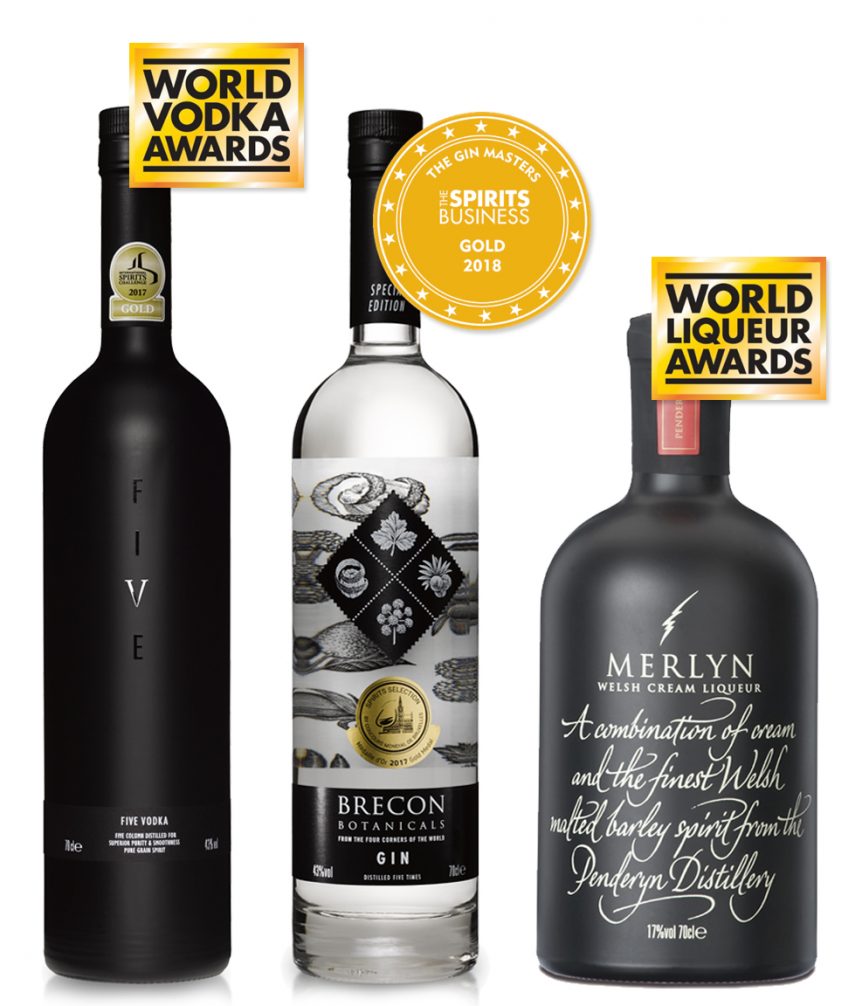 Vodka, Gin and Merlyn Win Major Awards
We are thrilled to announce that our spirits have won three major international awards. Brecon Botanicals Gin won Gold in the Super Premium Category at The Gin Spirits Masters 2018, which is run by The Spirits Business. As gin is becoming more and more popular competition was hotter than ever, so this is a notable achievement. Judges included Melita Kiely (Deputy Editor The Spirits Business), Amy Hopkins ( Editor, The Spirits Business), Nik Koster (Founder, A World of Gin), Anthony Moss (Director of Strategic Planning WSET), Elise Craft (Whisky Squad Co-Ordinator), and the spirits buyer for Harvey Nichols.
At the World Drinks Awards 2018 both our Merlyn Cream Liqueur and our FIVE Vodka won top awards with Merlyn Cream Liqueur winning the UK Cream Liqueur Gold Medal. The Chair of Judges was Cherry Constable, an independent drinks writer who specialises in wines and spirits.
Brecon FIVE Vodka won the UK Pure Neutral Category. The judges were Mehdi Ichedadene from Paris who works for the Melia White House Hotel in London; Fabio Immovilli who runs the AIBES Bartending Courses; Karol Terejlis from Poland, a renowned Mixologist, and the Chair was Veronika Karlova from Slovakia, a noted Vodka journalist.
Stephen Davies, Penderyn's Chief Exec, said, 'We already have national listings in the UK multiples for these spirits, and these awards only go to confirm that the products are of the highest quality, and will help raise the shelf profile for consumers. We are absolutely delighted that whilst our whiskies are regular award winners, our spirits are now being heralded as some of the best in the world.'