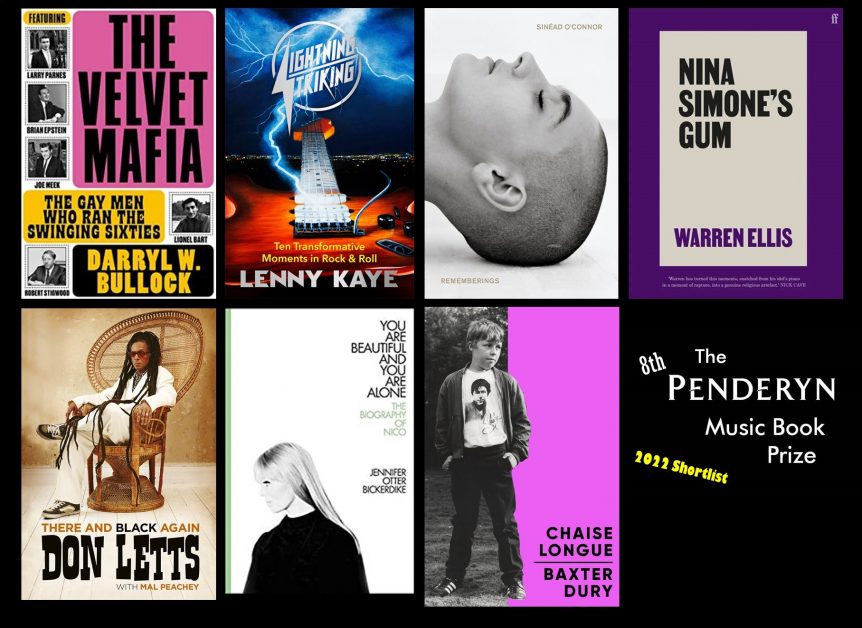 The Penderyn Music Book Prize 2022 Shortlist
The shortlist for the 8th Penderyn Music Book Prize has been announced. The Penderyn Music Book Prize, now celebrating its 8th year, is the first UK-based prize  specifically for music titles (history, theory, biography, autobiography).
Stephen Davies Chief Exec of Penderyn Distillery said:
​
"Good stories, music and the finest single malt go hand-in-hand, and Penderyn are big fans of the work Richard Thomas and John Williams have done with the Laugharne Weekend. As we all love our music at the distillery, we are delighted to sponsor this exciting prize."
The Short List
The Velvet Mafia – Darryl Bullock (Ominbus Press)
Rememberings – Sinead O'Connor (Penguin)
There and Black Again – Don Letts (Omnibus Press)
Chaise Longue – Baxter Dury (Corsair)
Lightning Striking – Lenny Kaye (White Rabbit)
You Are Beautiful and You Are Alone – Jennifer Otte Bickerdeike (Faber & Faber)
Nina Simone's Gum – Warren Ellis (Faber & Faber)
The winner will be announced at the Laugharne Weekend on Sun 27th March. The winner recieves a £1000 and a bottle oif Single Cask Whisky.
The Judges were:
Allan Jones – Former editor of Melody Maker and Uncut
Laura Barton – Guardian & Radio Four
Stephen Morris – Joy Division & New Order
Josephine Bartlett – Founder of Green Man Festival
Johnny Green – Tour Manager for The Clash, Joe Ely and John Cooper Clarke
And the long list, which was announced at The Boogaloo in Highgate, London on March 14th is:
The Velvet Mafia – Darryl Bullock (Omnibus Press)
Rememberings – Sinead O'Connor (Penguin)
Monolithic Undertow- Harry Sword (White Rabbit)
There and Black Again – Don Letts (Omnibus Press)
Bessie Smith – Jackie Kay (Faber & Faber)
Who Killed Cock Robin ? – Steve Sedley and Martin Carthy (Reaktion)
Bunnyman – Will Sergeant (Constable)
Chaise Longue – Baxter Dury (Corsair)
Lightning Striking – Lenny Kaye (White Rabbit)
Tenement Kid – Bobby Gillespie (White Rabbit)
My Rock n Roll Friend – Tracey Thorn (Canongate)
You Are Beautiful and You Are Alone – Jennifer Otte Bickerdeike (Faber & Faber)
Nina Simone's Gum – Warren Ellis (Faber & Faber)
A Furious Devotion – Richard Balls (Omnibus Press)
The Foghorn's Lament – Jennifer Lucy Allan (White Rabbit)
Beeswing – Richard Thompson (Faber & Faber)
For more info, go here: www.penderynprize.com