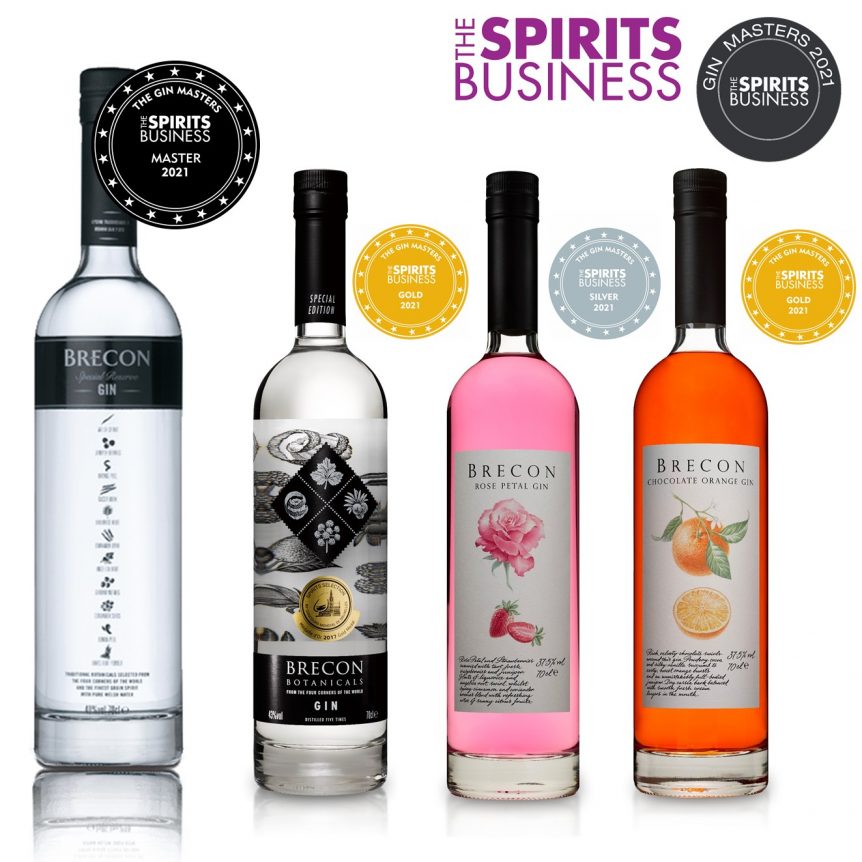 Penderyn Gins Win Big At Spirits Business Gin Masters
Penderyn Distillery's Brecon Gin is world famous for its high quality and taste and has just been named Masters winner at the 2021 Global Spirits Masters Awards.
Penderyn's award winning Brecon Gin won in three categories: The Masters, a step up from the Gold in 2020; Brecon Botanical Gin won Gold for its category and Brecon Chocolate Orange Gin was also awarded Gold this year, following a Gold in 2020. The Rose Petal Gin won a silver.
Founded 13 years ago, the Global Spirit Masters is an internationally renowned series of independently assessed blind-tasting competitions dedicated to the spirits industry. The competition is open to any kind of spirit, from whiskies and gins to vodkas, rums, tequilas and brandies – as well as speciality products like dulce de leche liqueur or elderflower cordial. Each submission is tasted against others in its category before being entered into a final blind tasting with other products from different categories for the top awards. The Masters Awards Competitions is run by The Spirits Business magazine.
Penderyn is proud to have been part of this international competition since it first began – one that has helped to raise awareness of the delights to be found in Welsh Whisky and other fine spirits. The Brecon Gin range was launched in 2016.
According to Penderyn's CEO Stephen Davies:
"This is a wonderful result and the first time we have won a Masters award for one of our gins. Brecon Gin is a firm favourite in the UK and in Spain, and is a fine quality distilled gin using botanicals from the four corners of the world, and bottled at Penderyn Distillery married with water from the Brecon Beacons National Park. Our flavoured gins, which we launched in September 2019 have also proved very popular, and awards like these mean that we are getting validation from important judges as to the quality of our gins."
Penderyn Distillery have recently opened a new distillery in Llandudno, and are also planning a third distillery in Swansea which will open in 2022/23. Exports are thriving during these post-Brexit times, with single casks for individual countries proving very popular. They launch their new Icons of Wales edition later this summer, which was put back due to the pandemic. These are indeed exciting times for this Welsh company.