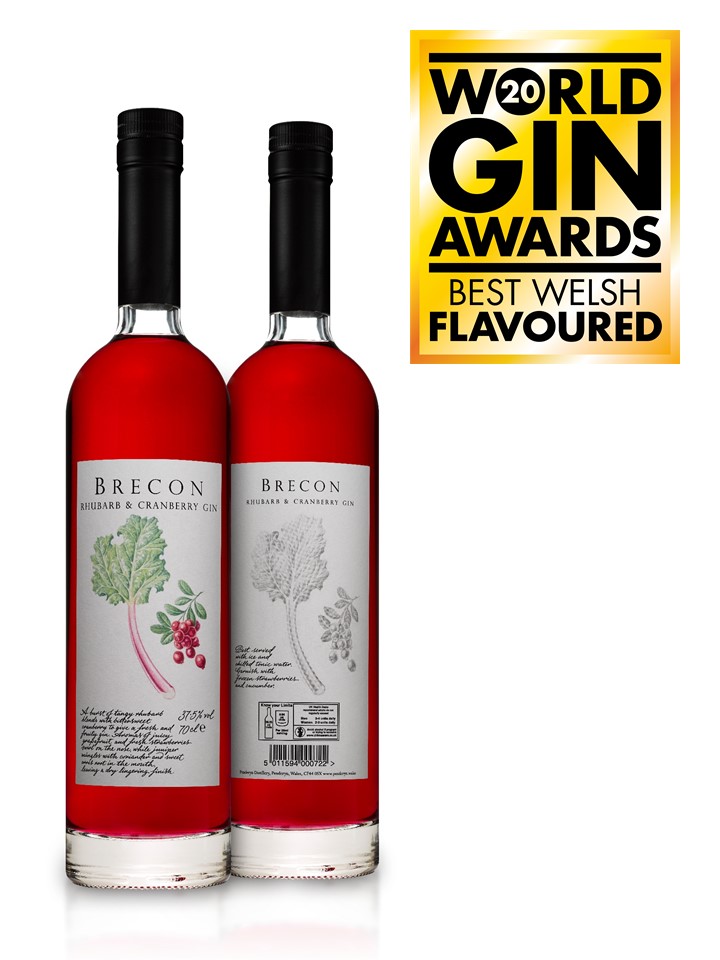 Penderyn wins Best Welsh Flavoured Gin at the World Gin Awards 2020
Penderyn are delighted to announce that our Rhubarb & Cranberry Brecon Gin won Best Welsh Flavoured Gin in the Country category of the World Gin Awards. This means that it goes forward to the World's Best Gins Awards announced on the 27th February at the Gin Magazine Dinner in London. These are the first gin awards of 2020, and we're very happy to have won as there are a large number of flavoured gins produced in Wales.
You can buy the award-winning gin by clicking here.
Stephen Davies, Penderyn's CEO, said:
'This is great news as it is the first award for our new range of Flavoured Gins which are proving very successful. We look forward to the results of the Best Gin awards in February.'
Last September, following on from the multi-award-winning success of our Brecon Special Reserve Gin and our Brecon Botanicals Gin, Penderyn launched three new flavoured gins – Rhubarb & Cranberry, Rose Petal and Chocolate Orange. The flavoured gins are based on our Brecon Special Reserve gin (which won Gold at the 2017 Spirits Business Global Gin Masters) and are bottled at 37.5% abv.
Laura Davies, our Distiller, who created the gins said –
'The award-winning Brecon Gin series has been expanded using Brecon Special Reserve as a base for three exciting flavoured expressions. These flavoured and coloured gins have been created with balance and creativity and will hopefully create more interest for our regular Brecon Gin customers, and bring new drinkers to the brand and the category.'
Tasting Notes
Rhubarb & Cranberry
A burst of tangy rhubarb blends with bittersweet cranberry to give a fresh and fruity gin. Aromas of juicy grapefruit and fresh strawberries swirl on the nose, while juniper mingles with coriander and sweet orris root in the mouth, leaving a dry lingering finish.
Best served with ice and chilled tonic water. Garnish with frozen strawberries and cucumber.
Rose Petal
Rose petal and strawberries married with tart fresh raspberries and juniper. Hints of liquorice and angelica root swirl, whilst spicy cinnamon and coriander aromas blend with refreshing notes of sunny citrus fruits.
Best served with ice and chilled tonic water. Garnish with a slice of pink grapefruit and fresh mint leaves.
Chocolate Orange
Rich velvety chocolate swirls around this gin. Powdery cocoa and silky vanilla succumb to zesty, sweet orange bursts and an unmistakeably full-bodied juniper, Dry cassia bark balanced with smooth fresh cream lingers in the mouth.
Best served with ice and chilled tonic water. Garnish with cinnamon and a twist of orange.