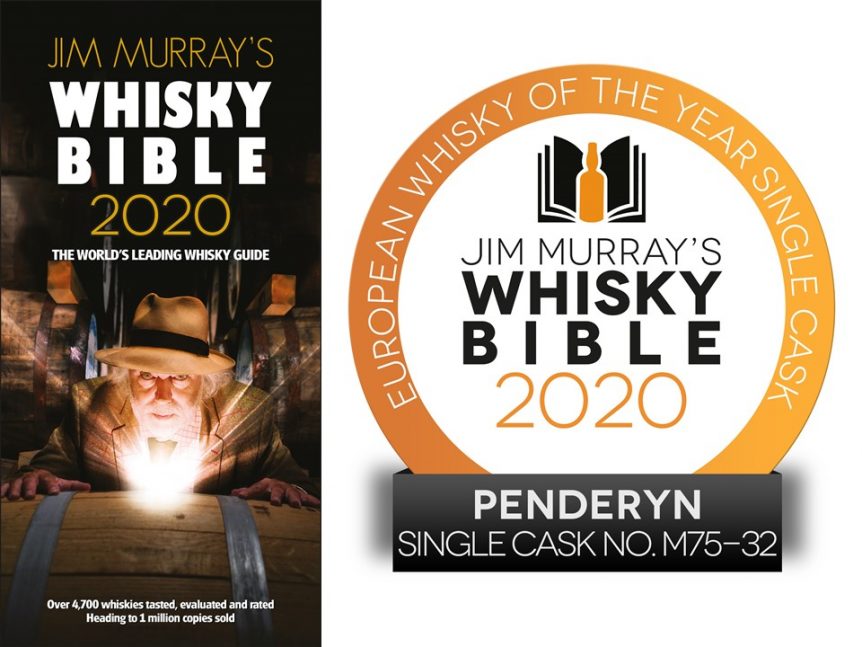 Penderyn Madeira Cask Named European Whisky of the Year 2020 in Jim Murray's Whisky Bible
Penderyn is celebrating a remarkable 2019 with another accolade which has just been announced.
A Madeira Single Cask Edition (M75-32), which was created for our German importers Schlumberger, has just been named the 'European Whisky of the Year' with a rating of 96.5/100 in the most influential whisky guide, Jim Murray's Whisky Bible. This is the 3rd such accolade in this category following the Swansea City Premier League Edition in 2013, and the Bryn Terfel Icons Of Wales Edition in 2018.
Jim Murray's Whisky Bible, an annual tome of whisky reviews and tips from independent whisky expert Jim Murray, who tastes 1,250 new whiskies each year, celebrates the best of the whisky world – and in the 2020 edition, published this week, Penderyn's Madeira Cask has been picked as Europe's best whisky, which is one of the top awards. Penderyn's CEO Stephen Davies said:
'Jim Murray is the main name you associate with expert whisky analysis. To hear that this bottling has been named European Whisky of the Year is wonderful news. To be one of only six highlighted bottles from over 5,000 whiskies is very pleasing.'
The accolade comes after Penderyn's Gold Medal successes at the International Wine and Spirit Awards, San Francisco Spirits Competition and Whiskies of the World Awards earlier this year.
Penderyn has continued to entice whisky drinkers in over 40 countries across the globe, and its all-women distilling team has received immense praise for its dedication to form, flavour and consistency. With 2019 having been a very successful year for the brand, the future is also looking good for Davies and the team:
'This year's success is only the beginning. We have all travelled a long road to get here, and are developing several exciting new ideas which we are certain our customers are going to enjoy.'
Jim Murray's Whisky Bible is a trusted source of notes on international whisky tasting. Penderyn's accolade as Europe's best cements them as a leading name in Single Malt Whiskies across Europe and beyond.