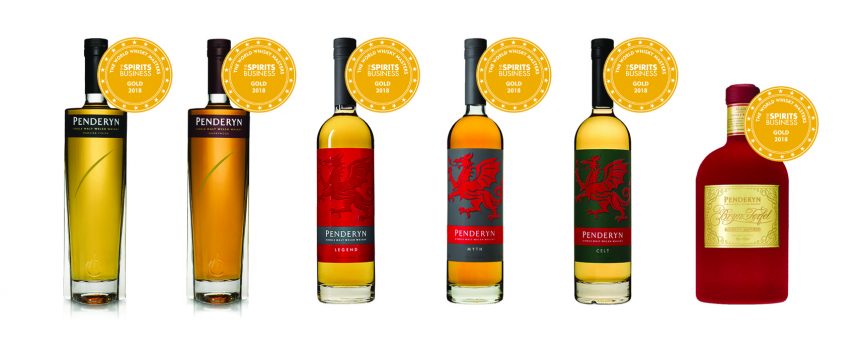 Penderyn's Record Gold Haul at World Whisky Masters
We've been picking up gold medals at international whisky shows for a few years now, but were nevertheless absolutely thrilled to discover that we won 6 Gold medals at the Spirits Business World Whisky Masters 2018.
The gold-winning Penderyn whiskies were Legend, Myth and Celt from the Dragon Range; Madeira and Sherrywood from the Gold Range, and the Icons Of Wales edition, 'Bryn Terfel', which also picked up the title of European Whisky of the Year in Jim Murray's 2018 Whisky Bible.
Stephen Davies, Penderyn's Chief Executive, said, 'Naturally we are delighted with this result. Our team put in so much effort and to be rewarded in this way is fantastic. Interestingly the only 2 other bottles in our main Gold and Dragon ranges – Portwood and Peated, have both won golds elsewhere in the past year, so we can safely say that Penderyn is a new form of Welsh gold. With this validation, and with exports growing, it's clear that Penderyn is establishing itself in the whisky world and we're very excited for the distillery's prospects in years ahead.'

The Spirits Business is a renowned trade magazine founded in 2007 and based in London. Judging was by a panel of leading spirits and on-trade specialists.