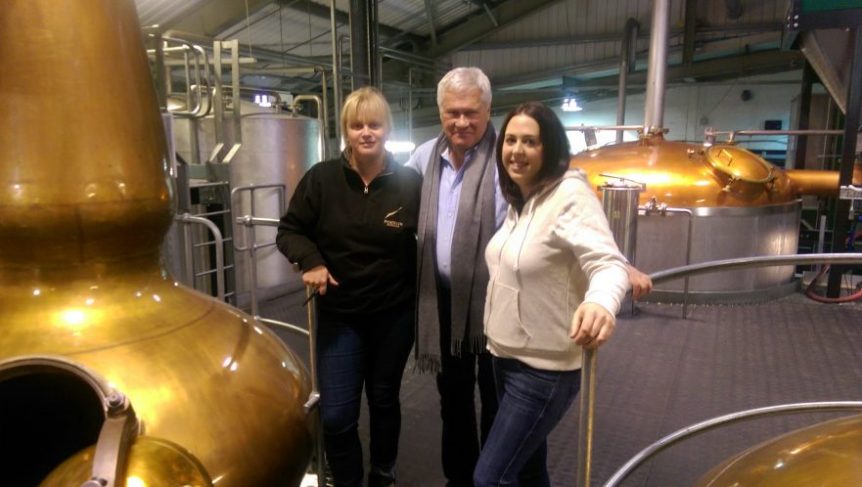 Dr Jim Swan – Goodbye To A Whisky Legend
We are terribly sad to hear about the loss of our good friend and champion, the legendary Dr Jim Swan, who passed away on Tuesday 14th February 2017. Dr Swan was one of our founders, and at the heart of everything we did. Without him, quite simply, there would be no Penderyn. He was involved with our distillery since the beginning and was our Master Blender, charged with creating our unique style of single malt. Fortunately he was also a great teacher and trained our distillers Aista & Laura (pictured above with Dr Swan) in the art and science of whisky production. He was a gentleman and a genius and his work with us will live on.
Dr Swan was born in 1941, and was a consultant to the world-wide drinks industry assisting blue chip brewers, winemakers, distillers and cooperages as well as several small producers in five continents. He attained a PhD in Chemistry and Biological Sciences from Heriot-Watt University and was a Fellow of the Royal Society of Chemistry and was awarded Fellowship of the Institute of Brewing and Distilling. He was the author of numerous scientific papers and took part in TV and radio broadcasts on the subject of spirit quality, and was also a panel chairman judge at the International Wine and Spirits Competition.
Our deepest condolences go out to his family, friends and colleagues across the globe.