Book Now
(If you want to have a flexible ticket or a gift voucher, go to the bottom of this page.)
Our Booking System is currently under maintenance and will be back up and running soon.
Searching Availability...
BOOK A SWANSEA DISTILLERY MASTERCLASS
"If you love whisky, you'll love this"
Penderyn Swansea Copperworks Distillery, Hafod Copperworks, Landore, Swansea, SA1 2LQ
Go through the barrier at the Landore Park & Ride car park and turn left. You do not have to pay for car-parking. When leaving, state your registration number at the desk.
For further enquiries, call 01792 381 650 or Swansea@penderyn.wales
Christmas Opening Times
24th Dec - 9am-1pm. 25th-26th - closed. 27th-31st 9am-5pm. 1st Jan - closed.
PLEASE READ
PUBLIC NOTICE
Our Distillery Shop is open from Weds-Sun from 9am-5pm.

We are taking bookings from the 29th July, and have put a number of Social Distancing and other factors into place, and have been awarded the 'Good to Go' certificate.eo
You can watch a video of our safety measures below.
We hope you all stay safe and well.
For whisky enthusiasts, we recommend our Swansea Distillery Masterclass. This fully interactive experience offers an in-depth look into the making of our award-winning Single Malt Welsh Whisky. Enjoy a fully guided tour giving you an insight into the equipment that produces our malted barley wash; our uniquely designed single copper-pot Penderyn stills and our pot stills. As well as imparting our knowledge and experience on the importance of wood and the art of maturation, you will enjoy a fun and informative blind nosing activity and learn the protocol of whisky tasting.
A limited number of bookings are now available. Head to the form at the top of this page to book.
SWANSEA DISTILLERY Masterclasses run from 11am-1.30pm on Saturdays and Sundays. Tea/Coffee and Welsh-cakes are served from 10.30am. We occasionally run Masterclasses on a Friday, so check the dates when you book (2 in August).

Our Masterclass lasts around 2.5 hours.In order to fully appreciate the Masterclass session, we strongly advise that participants do not plan to drive afterwards. Each attendee will receive a gift after their Masterclass. Masterclasses cost £60 per head and there is a discount for groups of 4 or more.
We regret that no refunds will be given for any tour or masterclass purchases.
For further enquiries, ring 01792 381 650, or email Swansea@penderyn.wales
PLEASE NOTE
To buy a tour as a gift please click here.
Please check your SPAM folder after ordering as sometimes your confirmation emails can end up there.
For further information please email BreconBeacons@penderyn.wales, or phone 01685 810 650
Be the first to know when Penderyn Swansea Copperworks Distillery is open for masterclasses, sign up for the news alert below.
Want to know more about Penderyn Swansea Copperworks Distillery in the meantime...
Penderyn Swansea Copperworks Distillery will be our third distillery in Wales. Our HQ is in the beautiful village of Penderyn, Brecon Beacons (Bannau Brycheiniog) which opened in Sept 2000. And in May 2021 we opened our second distillery
in the stunning Victorian seaside resort of Llandudno, North Wales.
Swansea Copperworks Distillery
At Swansea, the magnificent building, where the Distillery Hall is now housed, was once the powerhouse of the Hafod & Morfa Copperworks and later the canteen. The wonderful clock tower was gone, and the whole building was in a derelict state.
We knew the site would be the perfect location for our distillery, bringing it back to life and returning copper to the site once again, as our stills are made of copper.
The Visitor Centre Shop is now open. We will let you know when we open the exhibition area, tasting bar, and also a 'copper tunnel' which will show you what copper smelting was like, but, of course, without the danger!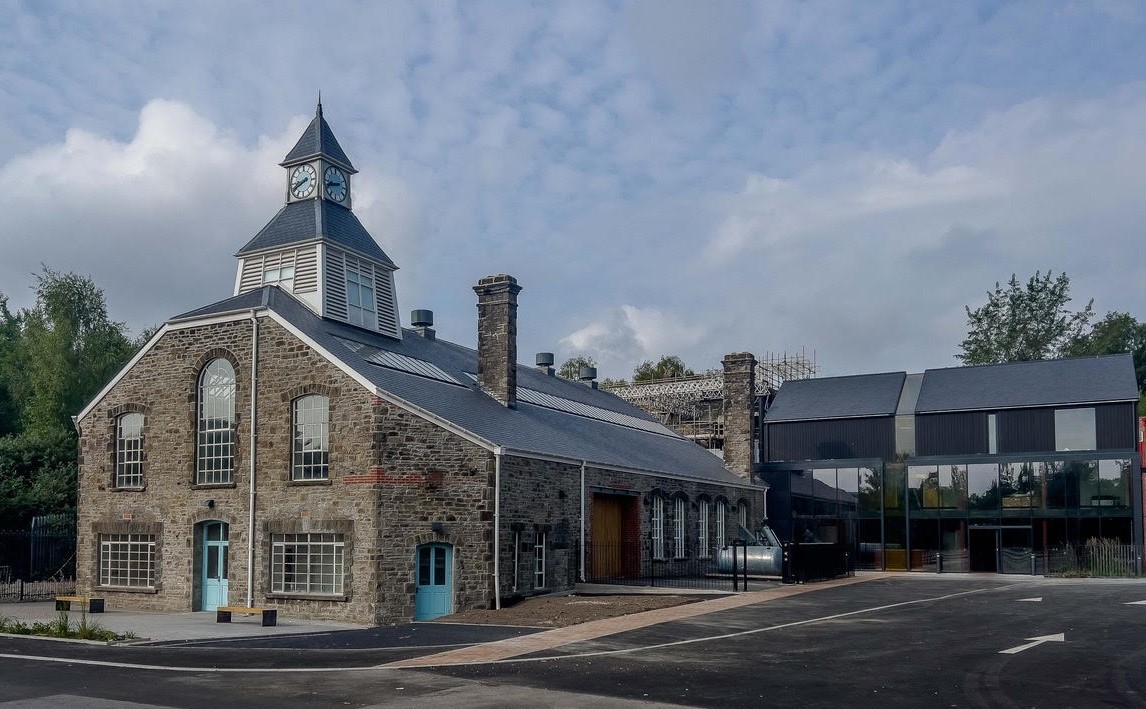 The Powerhouse has returned in all its glory and now contains our distillery hall.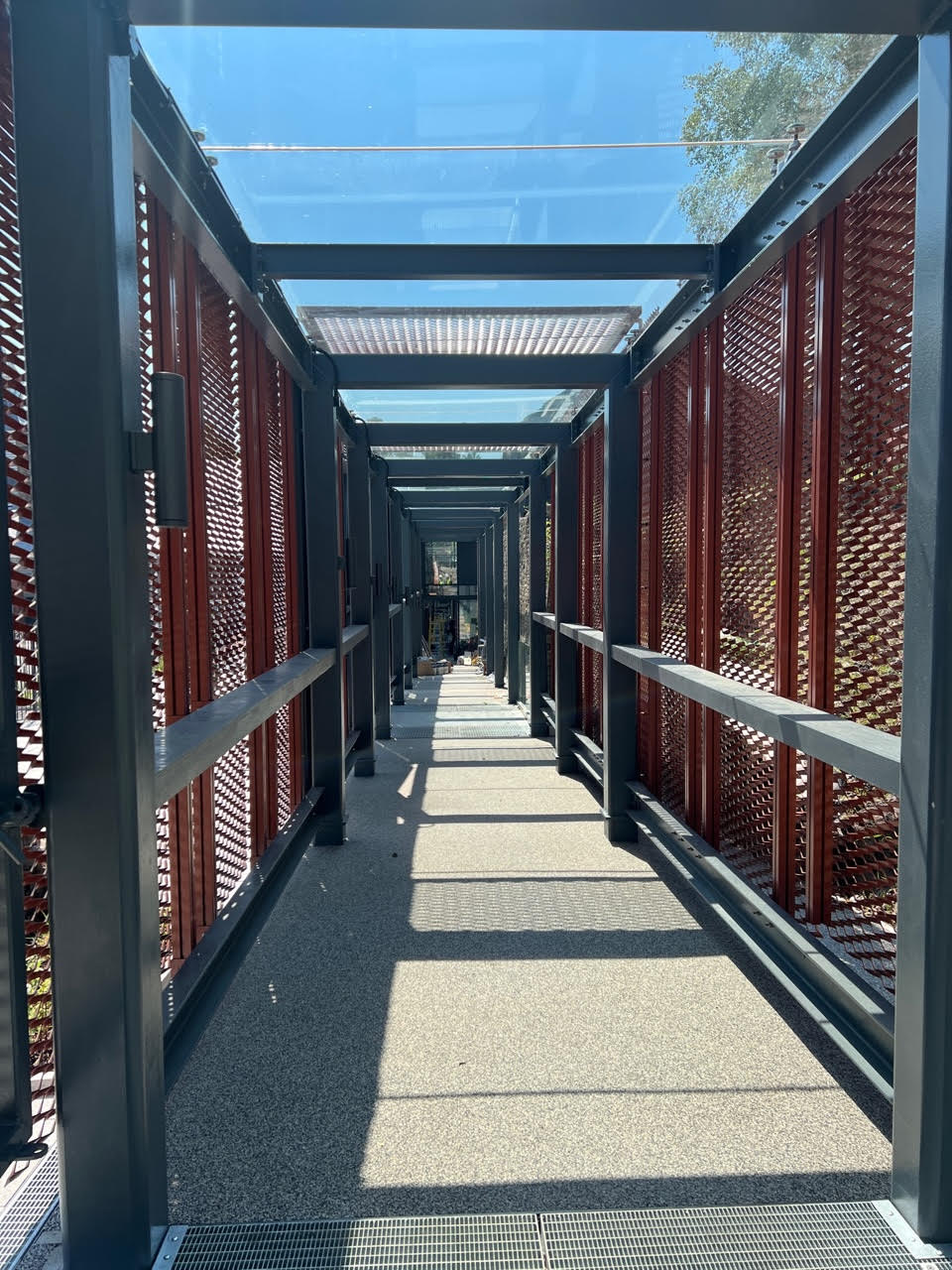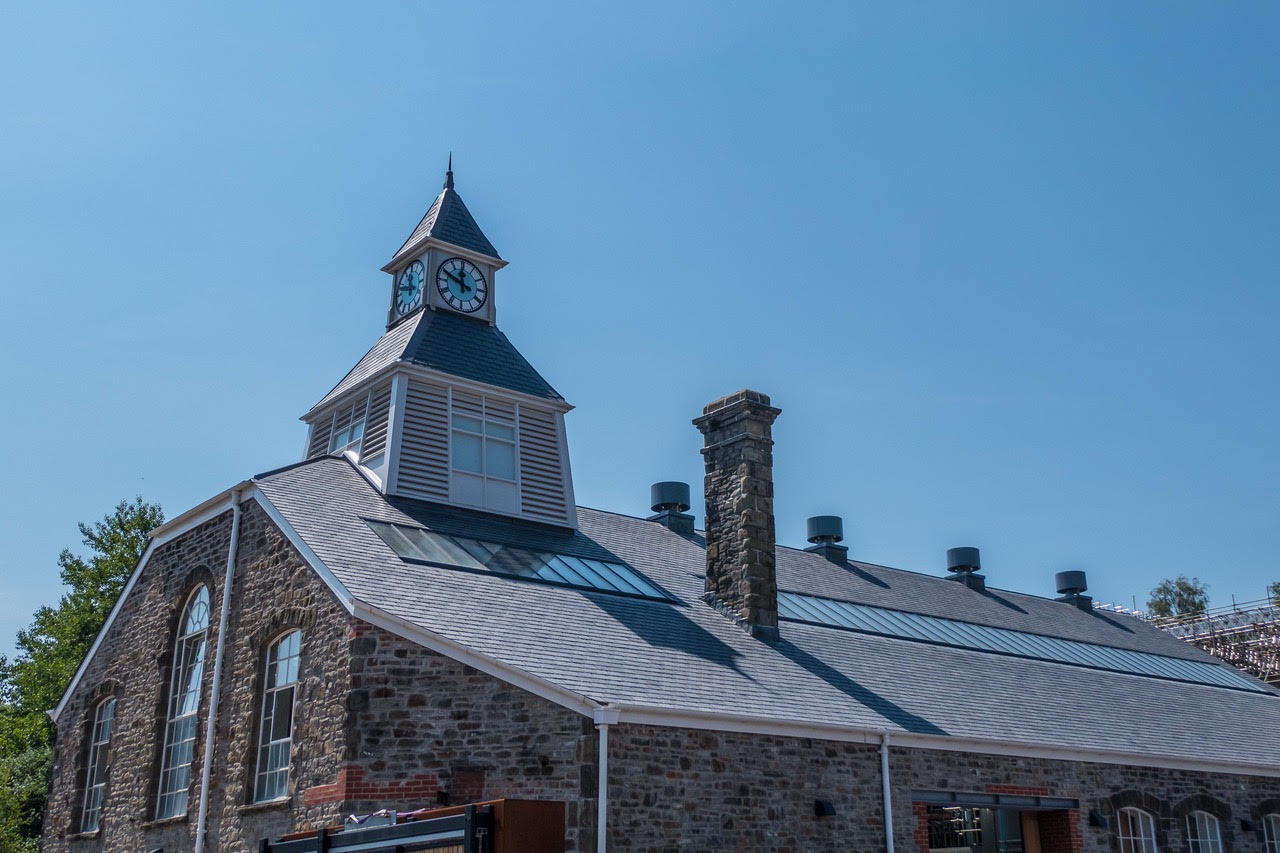 The clock tower has been restored and is working once again!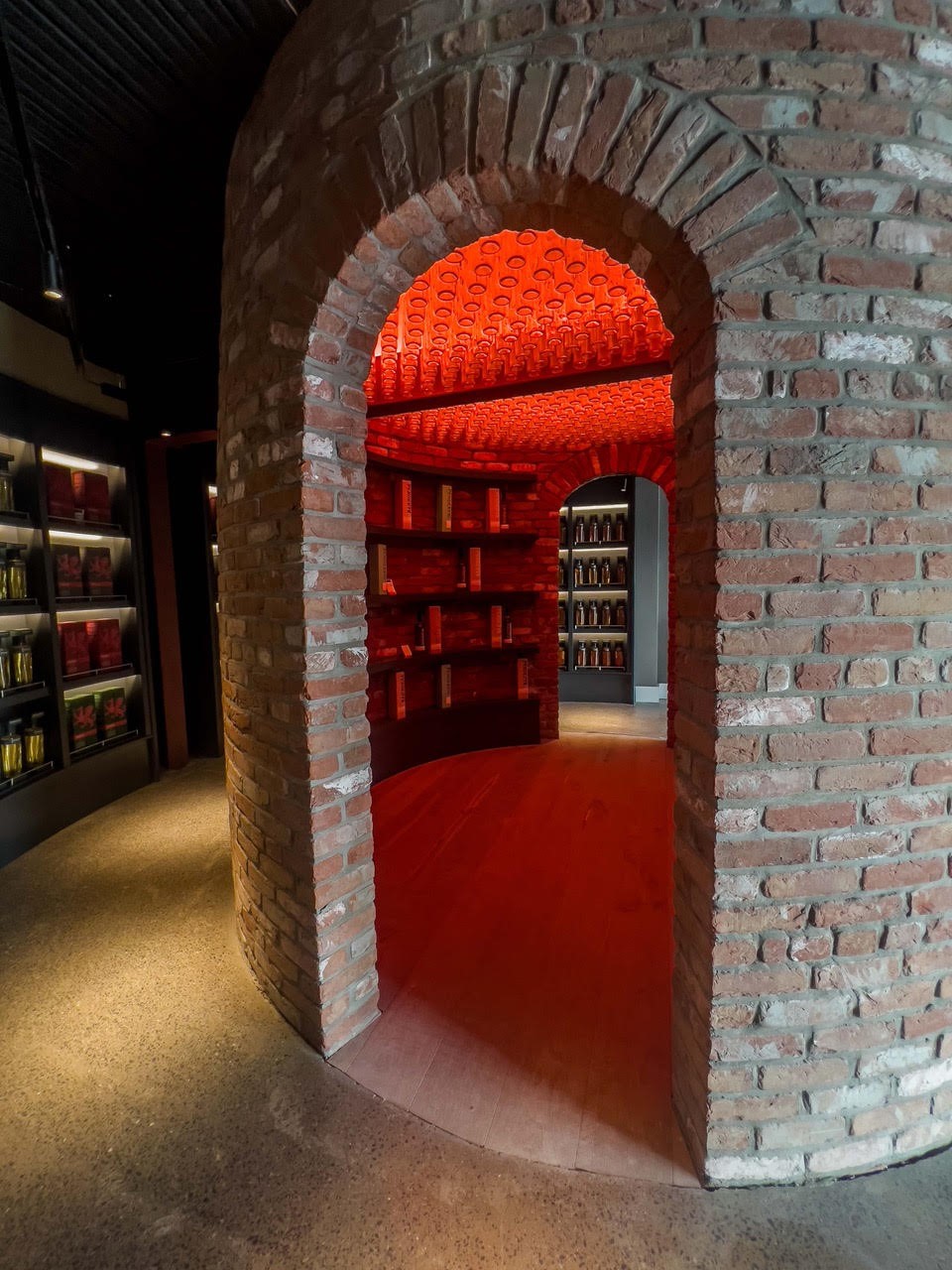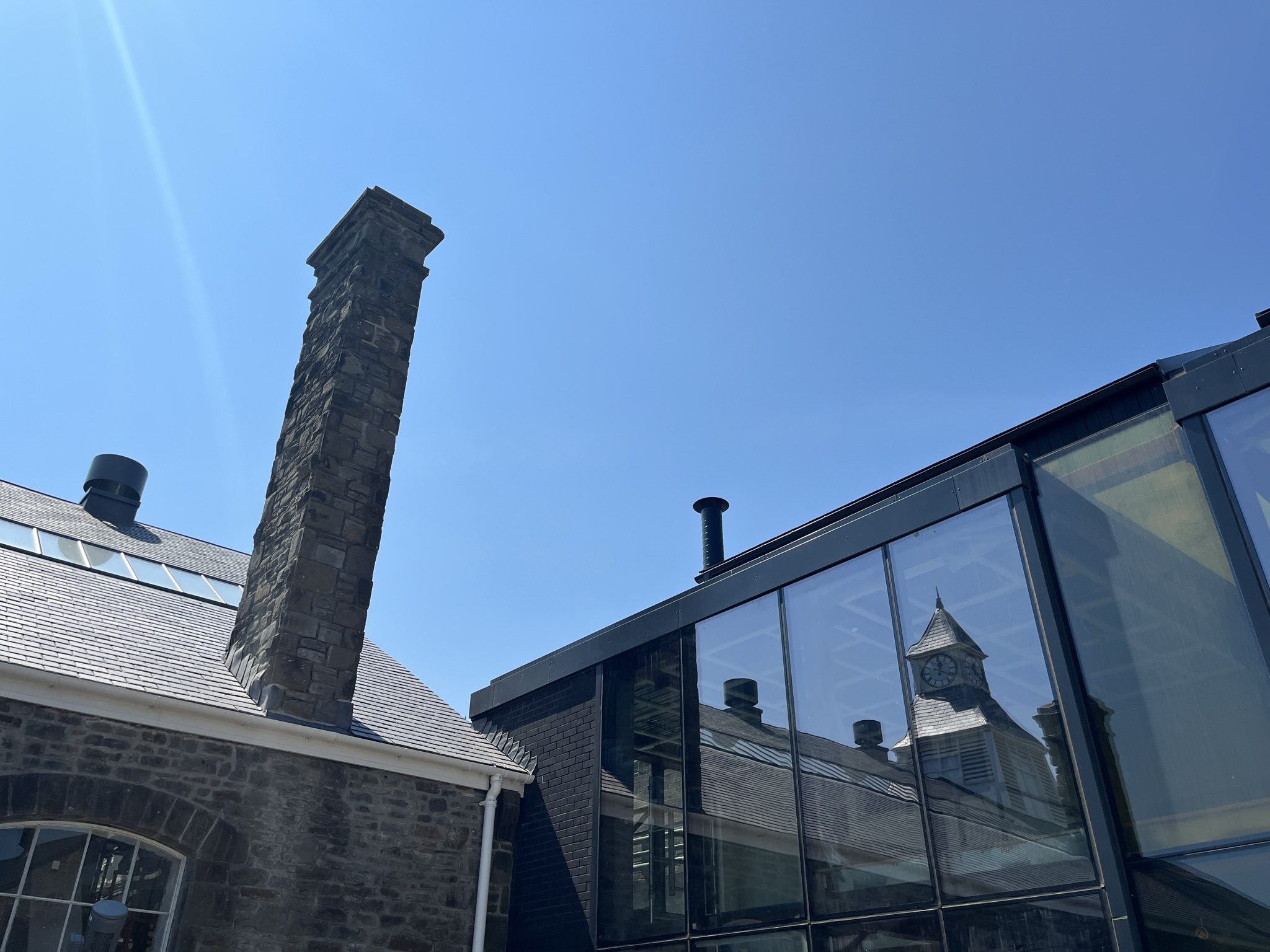 The shop is open! The Visitor Centre is on the right, and this is how it connects to our Distillery Hall.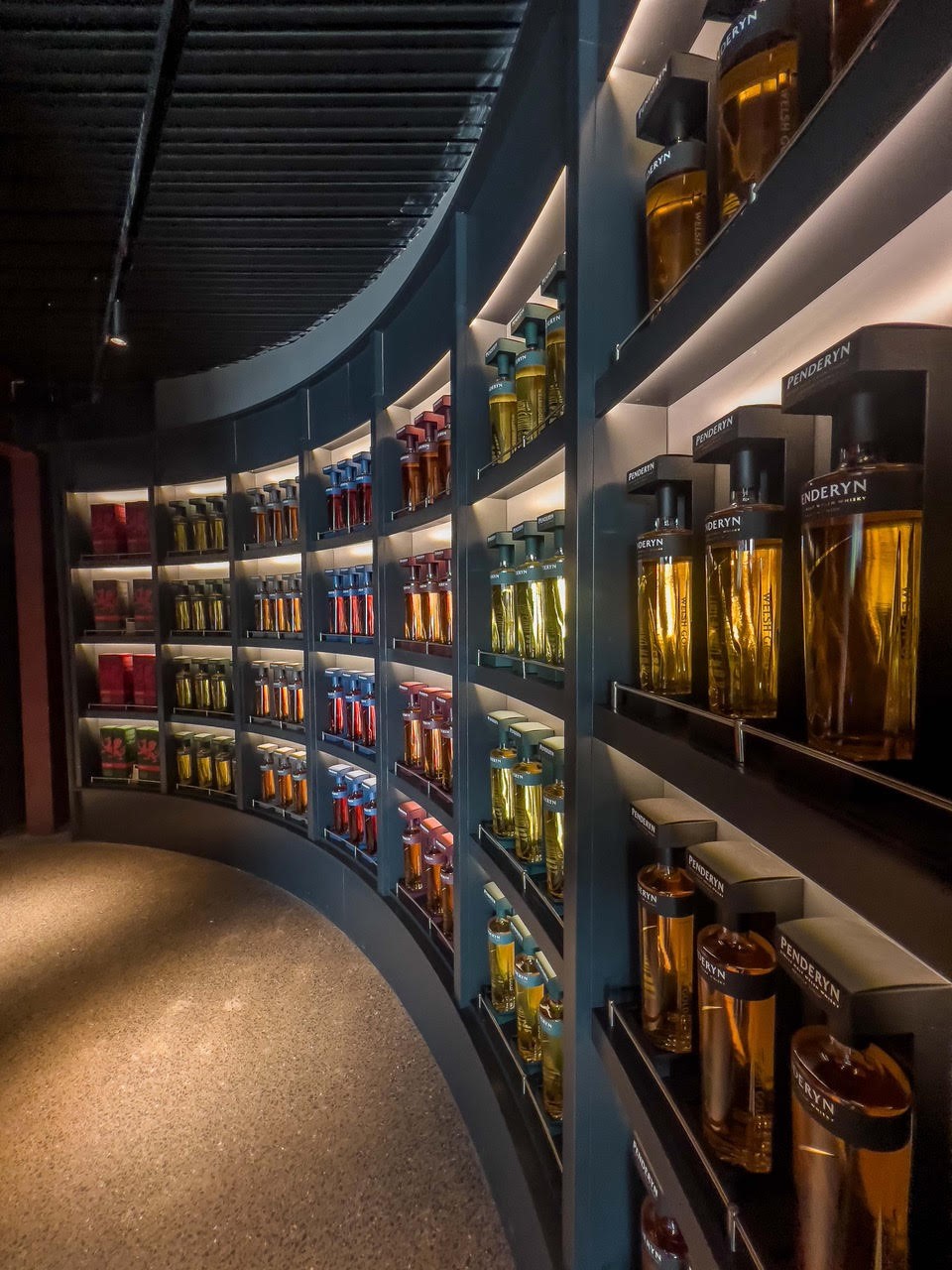 A brief history of Penderyn Distillery...
Distilling in Wales was 'a lost art', but in the late 1990s, in a pub in Hirwaun in the Welsh valleys, a group of friends chatted about establishing the first whisky distillery in Wales in over a century. They dreamt of creating a whisky as pure and precious as Welsh gold, represented today by Penderyn's 'gold seam'.
A unique copper single-pot still designed by Dr David Faraday, a relative of the great 19th-century scientist Michael Faraday, was installed which produces a spirit at an industry high of 92%, which means Penderyn's whiskies are light, fruity and flavoursome.
If you book a tour or masterclass you'll be able to see the two 'Faraday' stills and the pair of pot stills, that will be installed in the
Swansea Distillery Hall.
Penderyn Whisky has gained a worldwide reputation, exporting to over 50 countries, and winning over 100 gold awards en route, and we're very proud to be in Swansea.
To join the Penderyn community and receive the latest news and updates directly in your inbox,
sign up for our newsletters by clicking the link below (we promise not to bombard you)!

Penderyn Brecon Beacons Distillery
Part Time Visitor Tour Guide (closing date 8th May 2023)

16 hours per week until 31st August 2023. Immediate start.
Ideally you will have the following skills: outgoing personality with retail customer service experience; computer literacy and a good telephone manner; flexibility with working hours (rota and sickness / holiday cover etc); Welsh/French/German speakers desirable but not essential. Full training will be provided, and a competitive salary.
In the first instance, please fill out the form below, and attach the CV.
By submitting your application, all of the information collected in this form is necessary and relevant to the performance of the job applied for. We will use the information provided by you on this form for recruitment purposes only. The Company will treat all personal information with the utmost confidentiality and in line with current data protection legislation.
Should you be successful in your application, the information provided, and further information which will be gathered at the relevant time, will be subsequently used for the administration of your employment and in relation to any legal challenge which may be made regarding our recruitment practices.
We reserve the right to close this vacancy early if we receive sufficient applications for the role. Therefore, if you are interested, please submit your application as early as possible.
Useful links
Click the buttons below to view important information, or to purchase Tour & Masterclass Gift Vouchers