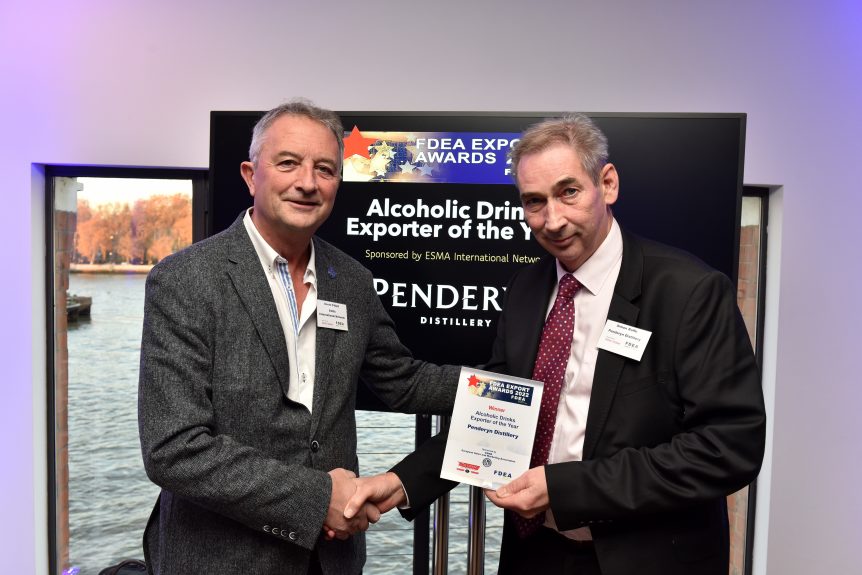 Penderyn wins 'Alcoholic Drinks Exporter of the Year' at the FDEA Export Awards 2022
We are delighted to announce that Penderyn Distillery has been awarded the Food and Drinks Exporters' Association's "Alcoholic Drinks Exporter of the Year" at the organisation's Export Awards 2022 ceremony in London before Christmas.
Simon Roffe from Penderyn said, 'The award reflects the enormous commitment shown throughout Penderyn's operations, customer services and management teams to bring these award-winning whiskies and spirits to an increasing audience across the world. The Penderyn team have all contributed to overcoming the challenges encountered from Brexit, and indeed the global pandemic which have led to significant changes in procedures, administration and moreover the costs of supplying international customers.'
Penderyn's most recent results the international business grew by nearly 30% against the previous year and its whisky sales by over 50%. A number of new key markets have been secured such as China and the pipeline for more developments is strong.
It certainly seems the Welsh dragon is roaring around the world and as the interest in whiskies from new producing countries grows strongly, the pioneers in this category from Penderyn will continue to lead the way.