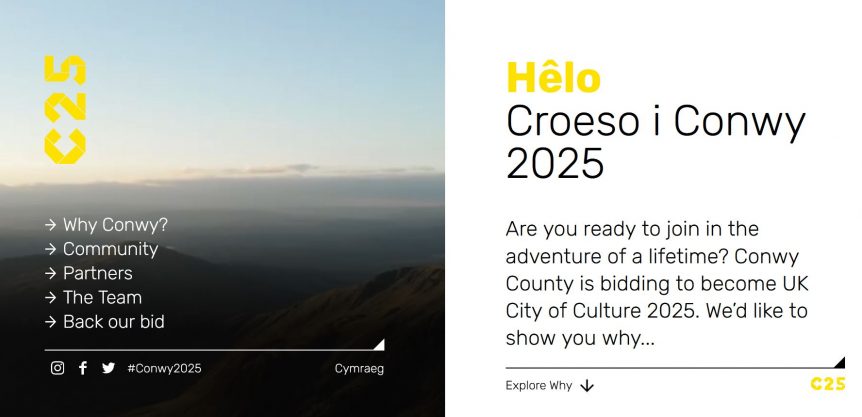 Penderyn sponsor Conwy's 'City Of Culture' bid
Penderyn Distillery are proud to be a supporter of Conwy County's attempt to be the 'City Of Culture' in 2025. #Conwy2025.
The Welsh tourist hotspot of Conwy County, North Wales has entered the race to become the UK's next City of Culture 2025. The tourist mecca is competing against other contenders across the UK to win this prestigious status. In order to win, Conwy needs to convince a panel that it can deliver a radical cultural programme within their communities. 
Penderyn Distillery supports the move as they believe that Conwy 2025 will celebrate Conwy on the world stage using "the spirit of playfulness and adventure", which Penderyn is also known for.
Conwy 2025 also has also adopted Wales' word Hiraeth which loosely translates into deep longing for home.
The Future Generations Well-Being Act 2014 protects the rights for future generations of young people in Wales. If the Conwy 2025 bid is successful, they plan to create an educational centre that would promote healthy living and sustainable environmental practices while also showcasing Welsh culture through art exhibitions.
Penderyn are proud to support the bid because they know what it is like to be Welsh whisky trailblazers. Penderyn's CEO Stephen Davies says: "To win Penderyn would stand by Conwy County Council as partners with the people, organisations and businesses of Conwy working to create exceptional cultural events and activities throughout 2025."
Penderyn would hand over its Distillery in the Conwy valley to provide a platform for events and activities. Davies says: "Penderyn is now physically placed in the heart of Wales's stunning Conwy Valley, where most of the world-famous castles are located and on the banks of one of Europe's most beautiful rivers, the River Conwy."
"Penderyn is also supported by thousands of loyal fans from Conwy," he says.
Penderyn Distillery would be ready to hand over their distillery in Llandudno for use in Conwy 2025 cultural events. Penderyn use local Conwy resources to produce their whisky in North Wales. Cllr Charlie McCoubrey, Leader of Conwy County Borough Council "Conwy County has an unrivalled reputation for delivering world class events and being a world class destination.  Having the backing of a world class brand like Penderyn can only strengthen our bid and we are really pleased to have them on board as our commercial partner at the expression of interest stage.  We believe that bidding for the prestigious status as UK City of Culture 2025 is a tremendous opportunity for which we are ready to deliver, as we prepare to launch a new Culture Strategy for the County"