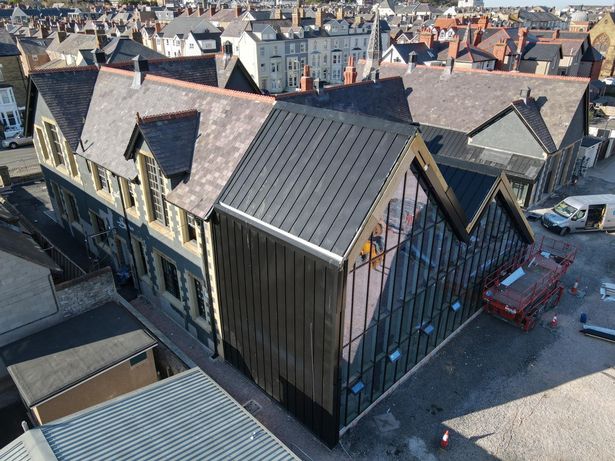 Penderyn's Llandudno Lloyd St Distillery shop opens on 17th May 2021, with Tours to follow from June 1st
'North And South Wales Unite – 20 Years Since Launching, Welsh Whisky Comes Of Age With Penderyn's New £5 Million Flagship Distillery In Llandudno, North Wales'

* May 17th Sees Penderyn Open New Distillery In North Wales, On Same Day That Wales Re-Open Pubs, Restaurants And Tourist Venues

*New Distillery Occupies Grade II Listed Former Old Board School In Lloyd Street, Built In 1887, and latterly the Conwy Council Archive

*17 New Jobs For Llandudno Region From New Distillery

*Natural Spring Water Supplied From Reservoir That Once Served The Victorian Lighthouse On The Great Orme Headland.
PRESS RELEASE 11th May 2021 (pic by Aaron Lennox)

For 20 years, Penderyn Distillery – The Welsh Whisky Company – based in the Brecon Beacons, South Wales has been working to bring back the spirit of the original Welsh Whisky distillery at Frongoch, near Bala, which closed over 100 years ago after receiving a royal warrant from Queen Victoria in July 1895. The distillery closed mainly due to Prohibition.
That Welsh spirit is well and truly back, as last year Penderyn had its biggest ever gold medal haul at the San Francisco World Spirits Competition.
That gold run is continuing with Penderyn – despite continued and sometimes difficult coronavirus restrictions – about to produce it's own liquid gold at their new £5 million Lloyds Street distillery in North Wales tourist mecca, the wonderful town of Llandudno.
Penderyn has expanded its operation with the opening on May 17, 2021 of their second distillery, in the Grade II listed Old Board School built in 1887, and latterly the Conwy Council archive, which became available in 2020.
A £1.4 million Welsh Government grant from the 'Tourism Investment Scheme' and the 'Food Business Investment scheme' has made the vision of Penderyn's new distillery a reality.
A new Faraday still (unique to Penderyn) has been installed and has been readied for production by Penderyn's Commissioning Distiller Bethan Morgans, which will focus, for the first time in Welsh history, on peated barley single malt whisky. Whisky, by law, has to be in a barrel for 3 years and a day, so we will have to wait quite a while to taste it, but, even though it's a peated whisky, it will have Penderyn's characteristics – light, fruity, flavoursome whiskies.
Penderyn's Operations Director, Neil Quigley has kept the remarkable renovation on time and on track, powered by Mold-based MPH Construction who have also added a modern glazed extension to the back of the building. The site will be managed by Llandudno resident, Dafydd Pesic-Smith.
With exports of 'Welsh Liquid Gold' to more than now 40 countries, Wales is now well and truly on the map of World whiskies to watch.
According to Penderyn Distillery's CEO, Stephen Davies, "Penderyn has always had a loyal following in North Wales".
"But with the South separated from the North by mountains and lakes, Penderyn has finally brought the country together".
"By opening in Llandudno, visited by 9.6 million tourists every year, we're saying 'Welcome home to Wales and to Penderyn'.
Tours of Penderyn's new distillery in Lloyd Street, Llandudno will commence mid-June 2021 and the booking system will be live by the middle of May. These will initially be restricted to 8 visitors per tour, rather than the usual 20, due to social-distancing. The annual estimate of 60,000 tourists is currently being restricted to 20,000, until the aforementioned social-distancing measures are lifted.
As global expansion continues, Penderyn has been working the UK Government to enshrine 70 Welsh Geographical Indicators (GIs) in terms of the unique production process of Welsh Whisky. And during the pandemic Penderyn produced Hand Sanitiser for use in the NHS and for Welsh Transport.
"Penderyn Distilleries have united North and South Wales, from our Brecon Beacons Headquarters to this new Llandudno Lloyd St distillery," says Davies, "and we look forward to taking Penderyn to even newer heights when we open a 3rd distillery in the Swansea Hafod Copperworks development. The finest spirit rises to the top, and at Penderyn we are continuing to innovate and develop our business."
Cllr Sam Rowlands, Leader, Conwy County Borough Council: 'We've been working with Penderyn as part of our Economic Growth Strategy, which aims to bring more all-year, all-weather attractions to the county. We very much welcome the benefits Penderyn can bring to the local economy and tourism, particularly after the past year, with new jobs; a new attraction for visitors; and the renovation and preservation of a listed building.'
Cllr Goronwy Edwards, Cabinet Member for Economic Development, Conwy County Borough Council: 'I'm delighted to see this exciting development for the region's economy, and especially pleased that the nationally acclaimed Penderyn have chosen the town of Llandudno to establish a base in North Wales. I look forward to visiting when they open, and wish the venture a very successful future.'
Bethan Morgans, Commissioning Distiller: 'I'm humbled to be part of the commissioning team for our Llandudno distillery. It's a very exciting time for us, not only to be opening our second distillery but also to be introducing peated malt to our operations.
The commissioning period will involve a lot of fine tuning and experimentation of yeast varieties, phenol content and distilling cut points in order to ensure we produce a spirit with the Penderyn characteristics and quality, whilst also having its own identity.'
Dafydd Pesic-Smith, Site Manager says: 'I am excited to be a part of opening the new Penderyn Distillery in Llandudno and adding to the already rich and vibrant tourism scene in North Wales. It's fantastic to be able to bring life back into the building and I look forward to trying a dram I'm the future.'
Article in Daily Post here.
Article in Spirits Business here.