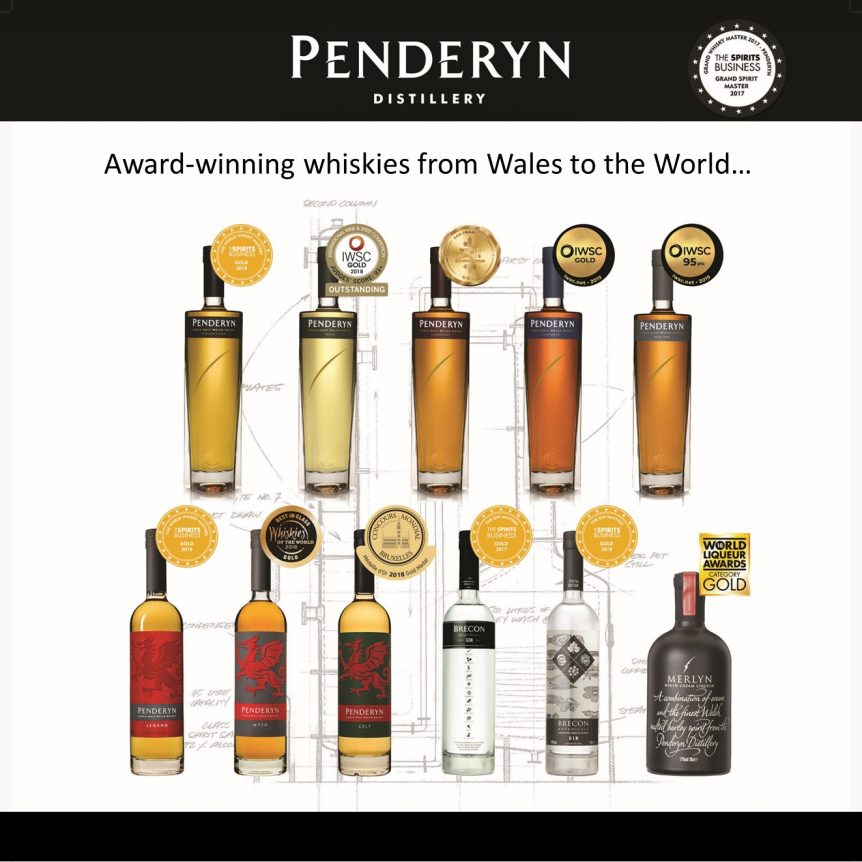 Penderyn Distillery wins an astonishing 35 Gold Medals (plus other awards) in 4 years.
We regularly informed you of our awards, but here is a summary of what Penderyn has achieved since 2016 across our whisky and spirits ranges. As well as the 35 Golds there have been a number of silvers, some very high marks and a Spirits Business Grandmaster award for the distillery in 2017. (Full list below.)
This is testimony to the hard work put in by our team, and we'd also like to acknowledge the support we have had from importers, distributors and retailers, as well as the awards judges as we develop our business and increase growth in over 40 countries around the world.
Penderyn is getting a great reaction wherever we go. The story of the brand is strong, but ultimately, it's all about the taste of our products. Our whiskies are light, fruity and flavoursome as a result of our unique still, Welsh water and wood management, and it's always a joy to see people's faces when they try our whiskies for the first time.
If you need any further information, or medal images, please contact jon@penderyn.wales
Onwards! (Or 'Ymlaen' as they say in Wales!)
Madeira
Ultimate Spirits Challenge 2019 – World Whisky – Very good 88/100
Spirits Selection by Concours Mondial 2018 – Grand Gold
World Whisky Masters 2018 – Europe Premium – Gold
Whiskies Of The World 2018 – Malt Non-Bourbon Cask – Silver (Outstanding)
World Whisky Masters 2017 – Europe Premium – Gold
Ultimate Spirits Challenge – Chairman's Trophy – 95/100
Portwood
IWSC 2019 – Worldwide Whisky – Gold
Whiskies of the World 2019 – Barrel Finished Non-Age Statement – Gold (Best in class)
World Whisky Masters 2016 – Europe Premium – Gold
Sherrywood
San Francisco World Spirits 2019 – Gold
Ultimate Spirits Challenge 2019 – World Whisky – Very good 85/100
World Whisky Masters 2018 – Worldwide Premium – Gold
World Whisky Masters 2017 – Europe Premium – Gold
ISW International Spirits 2017 – Gold
Peated
IWSC 2018 – Worldwide Whisky (Outstanding) – Gold 93/100
World Whisky Masters 2018 – Europe Premium – Gold
Spirits Business Asia 2018 – World Whisky – Gold
Rich Oak
IWSC 2019 – Worldwide Whisky – Gold 95/100
Legend
Ultimate Spirits Challenge 2019 – World Whisky – Very good 88/100
Spirits Selection by Concours Mondial 2018 – Gold
World Whisky Masters 2018 – Europe Premium – Gold
San Francisco World Spirits 2018 – Silver
World Whisky Masters 2015 – European – Gold
Myth
Whiskies Of The World 2018 – Malt Non-Bourbon Cask – Gold (Best in Class)
World Whisky Masters 2018 – Europe Premium – Gold
San Francisco World Spirits 2018 – Silver
World Whisky Masters 2017 – Europe Premium – Gold
World Whisky Masters 2015 – European – Gold
Celt
Whisky Advocate Top 20 Whiskies of 2018
Spirits Selection by Concours Mondial 2018 – Gold
Whiskies Of The World 2018 – Malt Peated Medium – Silver
World Whisky Masters 2018 – Europe Premium – Gold
World Whisky Masters 2016 – Europe Premium – Gold
Rich Oak 50%
World Whisky Masters 2017 – European Super Premium – Gold
ISW International Spirits 2017 – Gold
Portwood Single Cask
IWSC 2019 – Worldwide Whisky – Gold
Rich Oak Single Cask
IWSC 2018 – Worldwide Whisky Cask Strength – Gold
Bryn Terfel
Jim Murray's Whisky Bible 2017 – European Bottling – Winner
Distillery
World Whisky Masters 2017 – Grand Master
Brecon Gin
The Spirits Business Gin Masters 2017 – Gold
Spirits Selection by Concours de Mondial de Bruxelles 2017 -Silver
Brecon Botanicals Gin
Spirits Selection by Concours de Mondial de Bruxelles 2018 – Gold
The Spirits Business Gin Masters 2018 – Super Premium – Gold
The Gin Guide Peoples' Choice Award 2017
Spirits Selection by Concours de Mondial de Bruxelles 2017 – Gold
Brecon FIVE Vodka
Spirits Selection by Concours de Mondial de Bruxelles 2018 – Silver
World Vodka Awards 2018 – Best British Pure Neutral – Gold
International Spirits Challenge 2017 – Gold
The Spirits Business Vodka Masters 2017 – Gold
Merlyn
World Liqueur Awards 2018 – UK – Gold
Spirits Selection by Concours de Mondial de Bruxelles 2017 – Silver