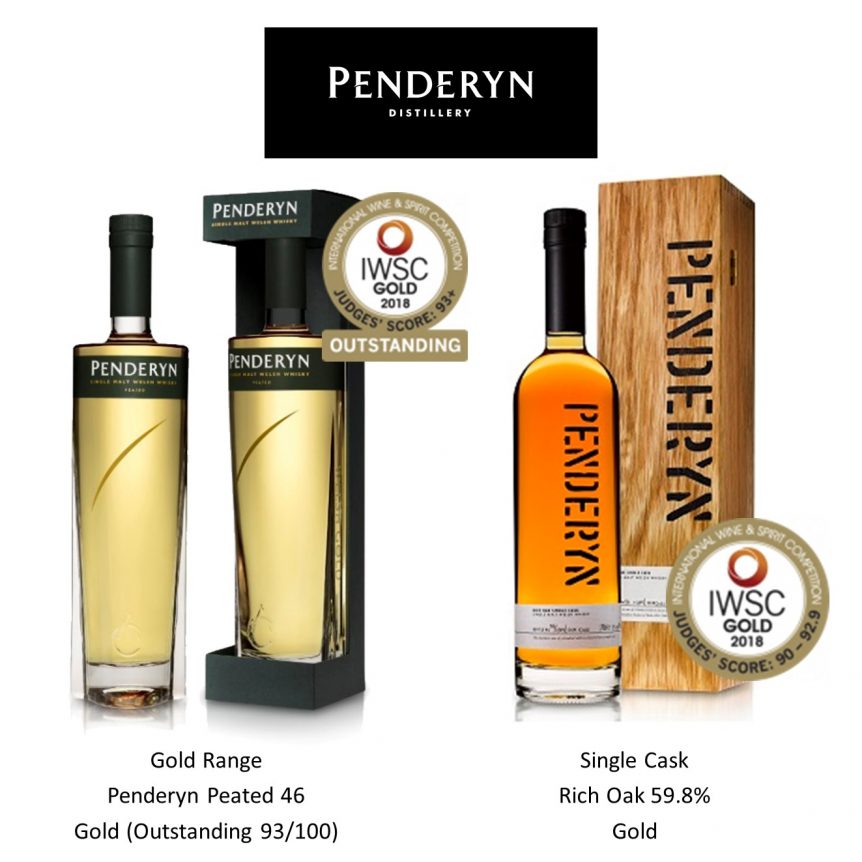 Two More Golds from the highly prestigious IWSC Awards – 7th August 2018
The golds keep coming for Penderyn. After the six recent Gold awards from the 2018 World Whisky Masters we are delighted to report that we have won 2 Golds at the highly prestigious International Wines & Spirits Competition (IWSC).
Firstly, our Gold range Peated 46 won Gold (Outstanding) award in the Worldwide Whiskies category. This is a great achievement and the whisky scored 93/100. Secondly, our Rich Oak Single Cask, bottled at 59.8% won the Worldwide Cask Strength award.
Penderyn's Chief Executive, Stephen Davies, said, 'This is a great result. The IWSC is a very prestigious competition. These gold awards are a sign that all the hard work done by everyone in this company – be they packers, still-men, managers, admin, Visitor Centre and warehouse staff – is paying off. We have a great team and they will all be very proud.' Stephen went on to say, 'In the early days of Penderyn I went to an IWSC dinner in London and ended up sitting alongside the late great jazz singer and TV star, George Melly. He was a big Penderyn fan and also had a house nearby the distillery.'
In 2006 Melly (pictured below) said to Wales Online, 'I would not go on stage at Brecon Jazz before I had a glass of Penderyn! I have been down to the distillery and I got to meet all of the people who so lovingly distil Penderyn. When I first tasted it, I thought it was absolutely delicious.' So if George is looking down on us we'll raise a glass of IWSC-winning whisky in his honour.
These awards come shortly after winning 6 Golds at the Whisky Masters 2018 and a further gold at the The Asia Masters 2018. It's an indication of how much the distillery is becoming established as a force to be reckoned with amongst the public and the whisky connoisseurs alike.